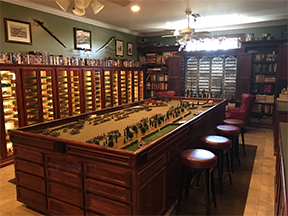 The Club's War Room
---
- - - - -
---
Club Contact Information:
PHONE
1 (480) 466 - 1262
You may call or text to this number.
Leave a message and we'll get back to you.

This E-mail address is the quickest way to contact us.
---
Want to check us out first? Here's how to see what
the club has been up to lately.

TTGS DISCUSSION GROUP
TTGS FORUM
TTGS PHOTO GALLERY
---
Who are we ?
The Table-Top Gaming Society (TTGS) is a club of enthusiasts who enjoy table-top Miniature wargaming.
We are located in Mesa, Arizona, USA and we are Arizona's largest active Historical Miniatures Wargaming Club.
The Miniature Wargaming hobby is best described as four hobbies in one.
1st:
COLLECTING miniature gaming figures in a variety of scales and designs.
2nd:
PAINTING the miniature figurines according to their historical uniforms or, in the cases of fantasy and sci-fi, to the owner's idea of how the figures should look.
3rd:
MODELMAKING and Diorama design. Games are played on terrain that can look very realistic. Many gamers have developed their modelling abilities so much so that their displays resemble realistic settings similar to those seen in model railroad layouts.
4th:
PLAYING elaborate strategy battle games with the miniatures as the main playing pieces.
What do we play ?
We are primarily a miniature wargaming club. However, strategy board games, and card games are also regularly played. All periods and scales are represented. Historicals, Fantasy, and Sci-Fi games, and gamers, are all welcome.
Where are we ?
The Table-Top Gaming Society currently serves the East Valley of the metro Phoenix area. Our meetings are held in Mesa. However, anyone who is willing to make the drive is welcome to attend our game nights as a guest and/or a potential member.
When do we meet ?
The club generally meets twice a month. Typically on Saturdays between Noon - 5:00 PM. Also, individual club members commonly get together more often to play games in smaller groups.
How can YOU get involved ?
Visitors are always welcome to attend our club meetings. You should contact a member of the club for directions, time, etc. and to act as your "sponsor" for the night. If, after a few visits you decide that you would like to join, the membership responsibilities will be explained.